14th April 2021: Our Daily deLIGHT~4th Day-Spirit of YHVH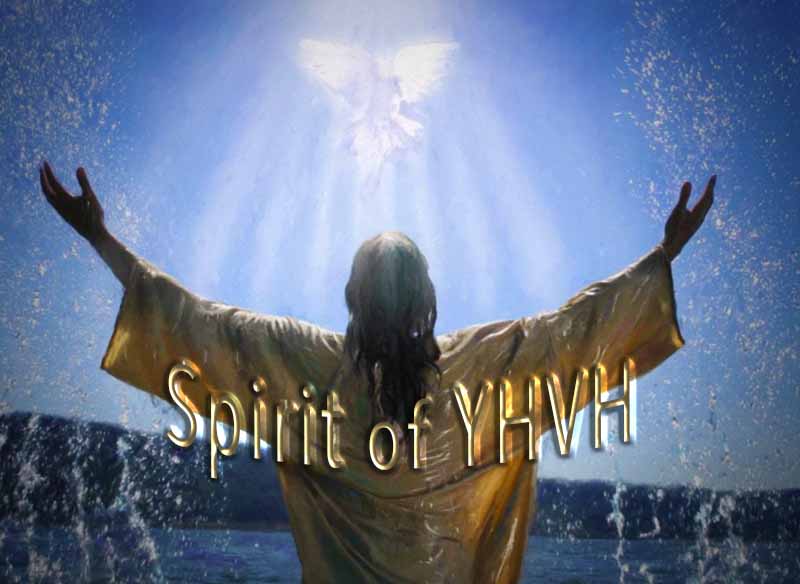 Courtesy of soulshepherding.org/
Spirit of YHVH
As I was reading the verses below one day, there was a phrase connected to a common concept that jumped off of the page.  As people of faith, the understanding that Yeshua is the One who will baptize us in the Holy Spirit is the obvious truth that we recognize, but the sign that He's the One is what caught my attention that day.  It says that the One you see the Spirit descending upon and REMAINING is THE Son of Elohim.  John readily admits that He didn't recognize Him at first until the One who sent Him to baptize in water said to him, 'He upon whom you see the Spirit descending and remaining upon Him, this is the One who baptizes in the Holy Spirit.'  The Scripture has many verses that tell us that we are to be in the image of Yeshua, walk in the manner in which He walked, be new creations in Messiah, etc…since this is the case, we too, are to receive the Spirit that He desires to give to us and as His disciples, we should walk in such a manner that the Spirit will be able to remain.  To have the Spirit remain was the sign that Yeshua was the Messiah and it is also the sign that we are His disciples.
We have often stated that it is His longing to be IN us and AMONG us and the way this happens is that we surrender fully to His will and way.  He will not dwell in an unclean vessel.  The beautiful thing is, He is willing to cleanse our vessels so that He can remain.  The method we've been given for cleansing is repentance.  This means acknowledging our sin and turning away from it.  As we read the verses below may the Spirit of YHVH open our hearts to receive fully that which Yeshua came for…to make us His disciples and to enable us to walk the walk by the power and infilling of the Holy Spirit.
John 1:19-34 says, 
​19 This is the testimony of John, when the Jews sent to him priests and Levites from Jerusalem to ask him, "Who are you?"
20 And he confessed and did not deny, but confessed, "I am not the Messiah."
21 They asked him, "What then? Are you Elijah?" And he *said, "I am not." "Are you the Prophet?" And he answered, "No."
22 Then they said to him, "Who are you, so that we may give an answer to those who sent us? What do you say about yourself?"
23 He said, "I am A VOICE OF ONE CRYING IN THE WILDERNESS, 'MAKE STRAIGHT THE WAY OF YHVH,' as Isaiah the prophet said."
24 Now they had been sent from the Pharisees.
25 They asked him, and said to him, "Why then are you baptizing, if you are not the Messiah, nor Elijah, nor the Prophet?" [Archeological Study Bible Commentary says, "During the first century A.D. certain groups within Judaism began to practice proselyte baptism, a rite that required converts, in addition to male circumcision, to undergo immersion in a ritual bath prior to their full reception into the community." Therefore, the leaders at that time were troubled that John was baptizing because this signaled to them another group apart from them is arising.]
26 John answered them saying, "I baptize in water, but among you stands One whom you do not know.
27 It is He who comes after me, the thong of whose sandal I am not worthy to untie."
28 These things took place in Bethany beyond the Jordan, where John was baptizing.
29 The next day he *saw Yeshua coming to him and *said, "Behold, the Lamb of Elohim who takes away the sin of the world!
30 This is He on behalf of whom I said, 'After me comes a Man who has a higher rank than I, for He existed before me.'
31 I did not recognize Him, but so that He might be manifested to Israel, I came baptizing in water."
32 John testified saying, "I have seen the Spirit descending as a dove out of heaven, and He [the Spirit] remained upon Him.
33 I did not recognize Him, but He who sent me to baptize in water said to me, 'He upon whom you see the Spirit descending and remaining upon Him, this is the One who baptizes in the Holy Spirit.'
34 I myself have seen, and have testified that this is the Son of Elohim."
Acts 1:4-5 is three and half years later from the verses above and Yeshua is about to fulfill what John told the leaders who questioned him that day.  It says,
4  Gathering them together, He commanded them not to leave Jerusalem, but to wait for what the Father had promised, "Which," He said, "you heard of from Me;
5 for John baptized with water, but you will be baptized with the Holy Spirit  not many days from now."   
These verses are still very relevant for us today.  We all have to come to the saving knowledge that Yeshua is the Messiah and Son of Elohim and then allow the Spirit of YHVH to fill us and REMAIN in order to be effective disciples in the kingdom!!
Have a blessed and shalom filled day!!
Tammy
Courtesy of
River of Life Tabernacle
Tammy McLendon
Great peace have they who love Your law. Psalm 119:165a